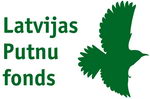 LATVIA BIRDS FUND ACTIVITIES
Bird watching tours. Depending on the demand and possibilities Latvia Birds Fund organizes educational and interest based bird watching tours all around Latvia. Depending on the season and weather conditions Latvian Birds Fund offers visits to the most suitable areas. Also Latvia Birds Fund organizes interest based tours depending on requests such as observing and listening to Woodpeckers, Owls etc.
Bird listening tours. Depending on interest Latvia Birds Fund offers tours to learn and recognize bird voices (songs, calls) in their natural habitats. This helps to learn and recognize and tell apart wood, field and water bird species by their songs.
Theme lectures/presentations for recognizing birds based on visual signs and voices (songs, calls) and other issues/questions related to birds. Alongside the lecture itself attendees are offered the opportunity to find out about the latest bird manuals publications from Latvia and Europe. You will be showed digital photos, video recordings and bird voice recordings relating to the presentation.
Latvia Birds Fund guides have experience in organizing guided tours and event management as well as working with persons of special needs. Latvian Birds Fund organizes tours depending on the requirements, – bird listening for visually impaired persons, excursions for people with mobility problems by adopting the route and methodology.
Offer of information (written texts, photos, drawings sketches etc) for educational and web publications as well as for educational events in collaboration with professional bird experts and specialists in the particular field of Ornithology.
Consultations for companies on environmental protection. Latvia Birds Fund offers advice on location choices for observation towers for birds and nature watching, nature trail creation, route planning, help in locating and monitoring ornithofauna, consultations and recommendations in relation to birds, their nest, movement, resting and feeding place protection and other relate questions issues.
DETAILS
Name: Latvia Birds Fund (Nodibinājums "Latvijas Putnu fonds")
Registration Number: 50008162891
Bank: AS "Swedbank"
Bank Account Number: LV44HABA0551034523756
Sort Code: HABALV22
CONTACT DETAILS
Latvia Birds Fund, Chairman Kaspars Funts:
Phone: +371 29467772
Email: funtaputni@gmail.com
Webpage: www.funtaputni.lv
Twitter / Facebook / Instagram: Kaspars KFunts 
Latvia Birds Fund, Member of the Board Karlis Millers:
Mobile: +371 29252138; e-mail: karlowitch@gmail.com
Website: www.birdinglatvia.lv
Facebook: facebook.com/karlis.millers
Latvia Birds Fund, Member of the Board Ivars Brediks:
Mobile: +371 29101126; e-mail: brediks@gmail.com
Blog: www.arputniem.wordpress.com
Twitter: @ivarsbrediks