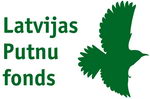 LATVIA BIRDS FUND GOVERNANCE
Latvia Birds Fund, Chairman Kaspars Funts
- I have been interested in Latvian nature and especially birds since my childhood. Once I was browsing through a book about birds when I realized that I want to be able to recognize them in nature. That is how it all started. On the 15th May 2000 I bought a set of binoculars and for the first time I watched birds in their natural environment. It fascinated me. Ever since I have been going on bird watching tours, buying manuals/books for recognizing them, recording bird songs and learning how to tell them apart by their singing and appearance.
Gradually this turned into my way of life. Wherever I go or whatever I do, I know we are surrounded by birds and I wish it would never change. Since 2008 I have not only watched birds but also ringed them for ID purposes. In my library I have collected all the available books and publications on Latvian birds. I also have all the researches carried out and the results going back to the beginnings of Latvian ornithology. A wide range of knowledge and valuable experience has been accumulated regarding birds and as a result I have decided to found the Latvia Birds Fund together with my colleagues Karlis and Ivars to pass on our knowledge to the society and to promote understanding of the daily life in nature and how human action is affecting it and how far can we interfere with nature`s processes.
Phone: +371 29467772
Email: funtaputni@gmail.com
Webpage: www.funtaputni.lv
Twitter / Facebook / Instagram: Kaspars KFunts 

 
Latvia Birds Fund, Member of the Board Karlis Millers
- I am an ornithologist by belief and education. I was born in 1977 in Riga but for the last 7 years I have been living in Liepaja. I graduated from the University of Latvia Faculty of Biology with a Masters Degree in Natural Sciences. I am still working on my Doctor`s dissertation about ecology of Greater Cormorant (Phalacrocorax carbo) and the ecological problems it is causing in Latvia. Representative of Latvia in EU "CorMan" project ("Sustainable Management of Cormorant Populations"). I have worked in the Ornithological Laboratory at the Institute of Biology of the University of Latvia, World Wildlife Fund etc.
My motto is: "I am with birds for 25 hours a day!" I have discovered and documented many rare bird species in Latvia. From 1998 to 2010 I was carrying out regular visual census of migratory birds in the Pape Bird Observation Station of the Institute of Biology. I was carrying out visual census of spring migration at Kolka as well. I`m professional bird ringer My knowledge and experience has been enhanced and topped up in Norway, Spain, Jordan, Oman and other locations. I have participated in local and international research and monitoring projects. I have been representative of Latvia in SEEN (South East European Bird Migration Network) and INTERCAFE ("Interdisciplinary Initiative to Reduce pan-European Cormorant-Fisheries Conflicts"). I am the author of publications and many bird photo publications at my homeland and abroad. I am also the creator and administrator of the website www.birdinglatvia.lv.
Mobile: +371 29252138; e-mail: karlowitch@gmail.com
Website: www.birdinglatvia.lv
Facebook: facebook.com/karlis.millers
Latvia Birds Fund, Member of the Board Ivars Brediks
- My first interest in birds appeared in 2004. Initially it was not that serious as it seemed to me that it was impossible to distinguish between all the small birds that 'look like a sparrow'! (Surprisingly though it turns out that in Latvia we have 2 sparrow species.) After a while I caught myself observing the details of bird songs, their visual and behavioral details, which change depending on the sex, age and season. This observational research lasts a lifetime as it is impossible to find it all out.
Despite unfamiliarity and how far from daily life to a city person it might seem, nature gives a meditative peace alongside being fascinating and even addictive entertainment. Sometimes, without even realizing it, during your activities you can help in the research and protection of the environment. Recently bird watching has developed and grown in popularity considerably, which is understandable as birds are seen and heard all around us. Also, the variety of the species is not that great for you not to be able to get your head around and tell what is what. All you need is just a bit of patience and attention. Sometimes a lot of patience and attention.
e-mail: brediks@gmail.com
Twitter: @ivarsbrediks